Field Data, Models and Uncertainty in Hazard Assessment of Pyroclastic Density Currents and Lahars: Global Perspectives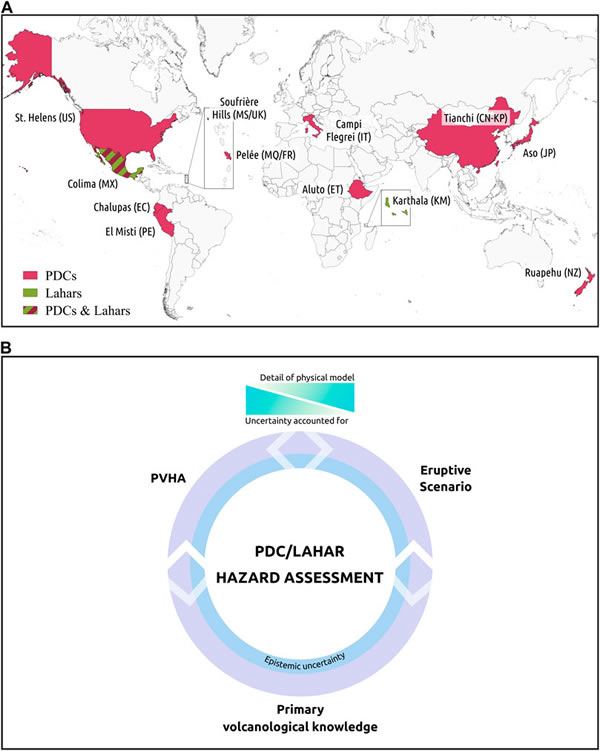 Tierz P., A. Bevilacqua, S. Mead, E. Spiller, L. Sandri (2021).
Frontiers in Earth Science, 9, https://www.frontiersin.org/article/10.3389/feart.2021.665725
Pyroclastic density currents (PDCs) and lahars are two of the most destructive volcanic phenomena. They can generate enormous losses of life, as well as extensive structural damage to buildings and infrastructure within tens of kilometers from their source. Hazard assessments of PDCs and lahars represent the foundation for estimating the substantial risk that these volcanic mass flows pose to the human environment.
Unfortunately, these hazard assessments are complicated by the spatio-temporal complexity associated with the processes of triggering, propagation (including flow transitions) and emplacement of PDCs and lahars. This natural variability (or aleatory uncertainty), alongside incomplete and imperfect knowledge (or epistemic uncertainty, should ideally be incorporated into the mass-flow hazard assessment. At the core of any volcanic hazard assessment resides the volcanological knowledge available for the volcano of interest and/or analogous ones, including information about the sources of uncertainty.
In this Research Topic, we have attempted to gather and showcase volcanological expertise from around the globe, related to any component of PDC and lahar hazard assessment: i.e., volcanological field data collection, analysis and interpretation; experimental and/or numerical and/or statistical modeling, including uncertainty quantification. Volcanic systems in 12 countries and 6 continents have been studied.