First marine cryptotephra in Antarctica found in sediments of the western Ross Sea correlates with englacial tephras and climate records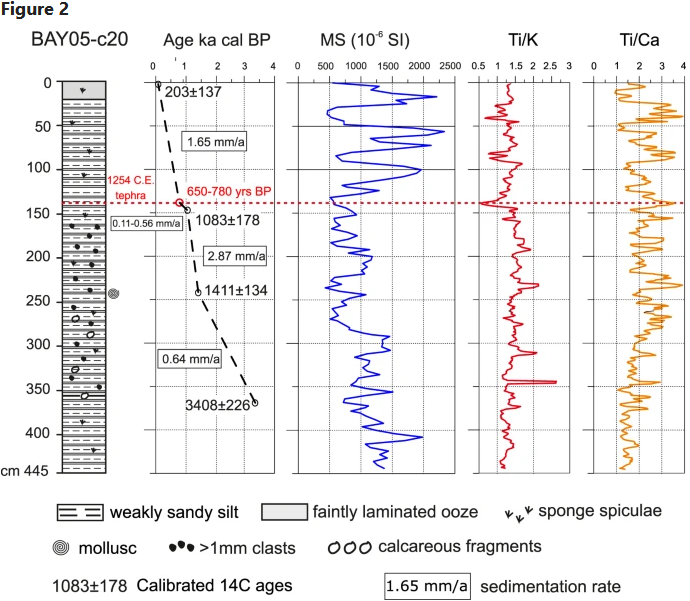 Di Roberto A., E. Colizza, P. Del Carlo, Petrelli, F. Finocchiaro, G. Kuhn (2019).
Nature – Scientific Reports, 9/1, doi: 10.1038/s41598-019-47188-3.

Abstract
We report the discovery of an important new cryptotephra within marine sediments close to Cape Hallett (northern Victoria Land), in the western Ross Sea, Antarctica. The cryptotephra is fully characterized for its texture, mineralogy and major- and trace-element data obtained on single glass shards. On the basis of geochemical composition, the cryptotephra is unequivocally correlated with the proximal deposits of an explosive eruption of the poorly known Mount Rittmann volcano, situated in northern Victoria Land. The cryptotephra is also correlated with a widespread tephra layer, which was erupted in 1254 C.E. and is present in numerous ice-cores and blue ice fields across East and West Antarctica. The characteristics of the tephra indicate that it was produced by a prolonged, moderate energy, mostly hydromagmatic eruption. This is the first time that a cryptotephra has been identified in marine sediments of the Ross Sea and in ice cores. It provides an important new and widespread stratigraphical datum with which the continental cryosphere and marine sedimentological records in Antarctica can be correlated. Moreover, from a purely volcanological point of view, the discovery further confirms the occurrence of a long-lasting, significant explosive eruption from Mount Rittmann in historical times that produced abundant widely dispersed fine ash. The study also highlights the inadequacy of current hazard assessments for poorly known volcanoes such as Mount Rittmann, located at high southern latitudes.