The 79 CE eruption of Vesuvius: A lesson from the past and the need of a multidisciplinary approach for developments in volcanology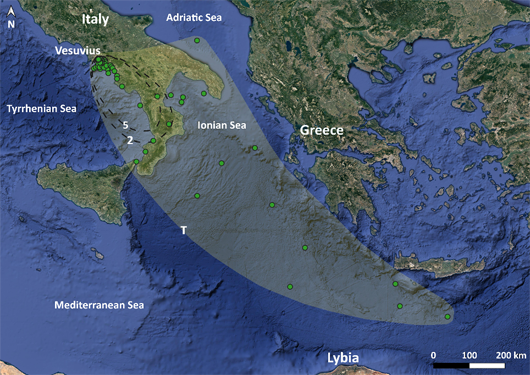 D.M. Doronzo, Di Vito M.A., Arienzo I., Bini M., Calusi B., Cerminara M., Corradini S., de Vita S., Giaccio B., Gurioli L., Mannella G., Ricciardi G.P., Rucco I., Sparice D., Todesco M., Trasatti E., Zanchetta G., (2022).
Earth-Science Reviews, https://doi.org/10.1016/j.earscirev.2022.104072.
Abstract
Abstract: A full review of the 79 CE Plinian eruption of Vesuvius is presented through a multidisciplinary approach, exploiting the integration of historical, stratigraphic, sedimentological, petrological, geophysical, paleoclimatic, and modelling studies dedicated to this famous and devastating natural event. All studies have critically been reviewed and integrated with original data, spanning from proximal to ultradistal findings of the 79 CE eruption products throughout the Mediterranean. The work not only combines different investigation approaches (stratigraphic, petrological, geophysical, modelling), but also follows temporally the 79 CE eruptive and depositional events, from the magma chamber to the most distal tephras. This has allowed us first to compile a full database of all findings of those deposits, then to relate the products (the deposits) to the genetic thermomechanical processes (the eruption), and lastly to better assess both the local and regional impacts of the 79 CE eruption in the environment. This information leads to a number of open issues (e.g., regional environmental impact vs. local pyroclastic current impact) that are worthy of further investigations, although the 79 CE eruption of Vesuvius is one of the best studied eruptions in volcanology. The structure of the work follows three macro-categories, the historical aspects, the products, and the processes of the 79 CE eruption. For each investigation approach (from stratigraphy to modelling), all dedicated studies and original data are discussed. The open issues are then synthesized in the discussion under a global view of Plinian eruptions, from the magma setting to its dispersion as pyroclasts flowing on the surface vs. falling from the volcanic plume. In this way, a lesson from the past, in particular from the well-studied 79 CE eruption of Vesuvius, will be of help for a better synchronization of processes and products in future developments. Lastly, various aspects for volcanic hazard assessment of Plinian eruptions are highlighted from the tephra distribution and modelling points of view, as these large natural phenomena can have a larger impact than previously thought, also at other active volcanoes.